Recent Posts
posted by Bill Scott
In Liberty's L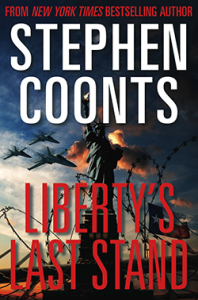 ast Stand, a superb new novel by bestselling author Stephen Coonts, a series of Islamic jihadist terrorism attacks on American soil prompts the U.S. president to declare martial law, suspend Congress, sideline the Supreme Court, and start rounding up his political enemies. Texans refuse to go along with the president's heavy-handed violations of the Constitution and secede from the Union. Soon, all-out war erupts between factions loyal to the president and those committed to freedom, led by gutsy Texans.
Steve Coonts is a master storyteller, but his latest political thriller should be read and absorbed as sobering prediction, not dismissed as mere fictional entertainment. Such a scenario easily could unfold over the next few months.
Given the predilections of today's imperious

Washington elites,

the potential for politically

driven overreaching is a real and present danger.