Recent Posts
posted by Bill Scott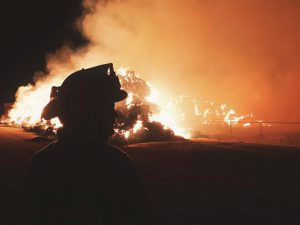 (Photo – KTVB.com – Kuna Fire)
Fifty-some years ago, when I was a young buck working on a farm in Eastern Colorado, I learned a simple truth that ultimately had a profound impact on my life. My boss, Malcolm Shipman, was a diminutive Texan with a big heart. He and his wife, Judy, never had children of their own, but befriended every kid in town and always took in the stray cats, dogs and horses. Though they rarely rode, Malcolm and Judy often bought horses, if they felt the animals were being mistreated.
One hot summer day, Malcolm and I were in town to pick up a part for his combine. At the John Deere dealer, Malcolm paid for the part, then bumped into a friend, as we hustled back to the pickup. Arms draped over the pickup's side rails, Malcolm and the farmer proceeded to yak for almost an hour. Knowing my boss was anxious to get that combine ready for wheat harvest, I couldn't believe Malcolm was wasting time just shooting the breeze!
I guess my impatience was far too obvious. Driving back to the farm, Malcolm pushed his hat back and drawled, "Mr. Bill, people are important. Real important." I humbly agreed, but nothing more was said. Malcolm just let those simple words of wisdom sink in.