In a sane America, U.S. Senate hearings to confirm a Supreme Court nominee would have consequences for uber-partisan ideologues, who flaunt both laws and standards of basic human decency.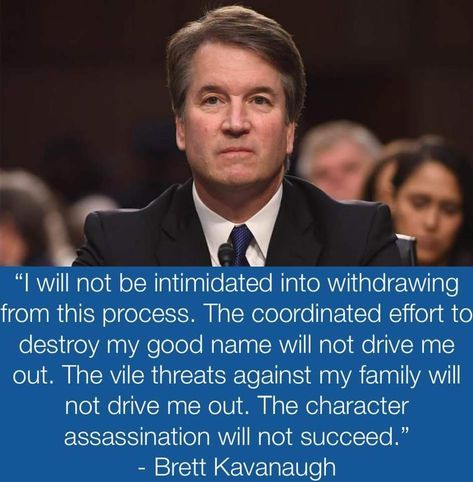 A Checkmate Justice Scenario
As Senate Judicial Committee members filed in, the hearing room's air crackled with tension. The future of America's Supreme Court was at stake, driving anxiety levels into the stratosphere.
The FBI agent in charge of a breakneck, one-week investigation of sexual-assault allegations levied against Judge Brett Kavanaugh had requested a highly unusual—and completely unexpected—session to deliver the team's findings.
Committee Chairman Senator Chuck Grassley called the assembly to order, introduced a slim, well-dressed woman seated at the witness table, and directed her to proceed. Special Agent Carrie Butler slipped on a pair of reading glasses, summarized a White House charge to the FBI, then tossed a verbal hand grenade into the dead-silent room:
"I'm here to announce the findings of an extensive FBI investigation that began not last week, as most of you believe, but two months ago. This investigation was triggered by a tip from a true American patriot—a Democrat, I should note—who participated in a dangerous, insidious plot to undermine the U.S. Constitution, banish centuries of due-process tradition, and literally destroy Judge Kavanaugh. Conceived, financed and launched by a wealthy individual dedicated to obliterating the United States and forcing its citizens into a one-world, borderless empire ruled by moneyed elites, the search-and-destroy mission against Brett Kavanaugh was merely a test run before launching a much more ambitious campaign. The cabal's ultimate goal is still in effect: to impeach a legitimately elected president, seize power and transform the United States of America into a socialist society.
"Although orchestrated by a former executive branch official, that demented, incredibly destructive campaign nevertheless was willingly embraced by key members of this committee. Four Democrat senators chose to disregard their solemn oaths to support and defend the Constitution, apparently convinced that their lofty positions or Senate longevity excluded them from the rule of law. Desperation, arrogance, an unquenchable thirst for power, and unbridled hatred for President Trump and his supporters blinded these senators. Consequently, they were swept into an obscene storm of malevolence.
"In short," she summarized, "four once-esteemed senators joined forces with corrupt, depraved globalists and an openly anti-American billionaire to commit a number of crimes and undertake despicable actions, such as:
"Subjecting Dr. Christine Blasey Ford to CIA mind-control methods banned long ago by Congress. Our investigation determined that Dr. Ford's testimony last week could not be considered remotely credible. But she believes her story, because she's been programmed to believe it. The 'event' she vividly recalled under oath never happened—exactly as Judge Kavanaugh vehemently asserted. Dr. Ford was a victim of heinous memory- and mind-altering methods one would associate with the old Soviet Union's KGB or Nazi Germany's SS. Irrefutable evidence confirms Dr. Ford was weaponized to obliterate Judge Kavanaugh. Aided by a complicit, liberal news media eager to convict Kavanaugh, Dr. Ford's uncorroborated, vague charges and tearful account were designed to erase forever the concept of due process—innocent until proven guilty—from American culture.
"Attacking, slandering and trying to intimidate a federal judge, prompting threats against him and his family. Under Title 18 of the U.S. Code, this is a crime punishable by fine and imprisonment for up to ten years.
"Actively planning, then executing the initial phases of a 'soft coup' designed to remove a lawfully elected president of the United States.
"Conspiring with select members of the news media to promulgate slanderous, blatantly false information for the sole purpose of destroying Judge Kavanaugh's reputation, delaying a confirmation vote until after the November elections, and obstructing the Trump Administration's ability to govern."
Agent Butler paused to scan a note slipped to her by a tall man wearing a dark suit and subdued tie. A squiggly wire from an earpiece disappeared under his coat collar. Another federal agent.
"I was just notified," Agent Butler continued, "that John Brennan was taken into custody by U.S. Marshals within the past hour. The former Director of National Intelligence and CIA is being charged with sedition, fomenting insurrection and inciting civil disorder to overthrow the United States government. We have evidence that Brennan conceived and orchestrated the Kavanaugh character assassination on behalf of that well-known globalist and financier. Until a warrant for his arrest has been exercised, I'm not at liberty to reveal the financier's identity. Many of you know him well. You have gladly accepted his money for years." She briefly locked eyes with Republican Senator Jeff Flake of Arizona.
The agent quietly scanned the row of senators facing her, making eye contact with each, in turn. The room was cemetery quiet, every attendee barely breathing. Finally, Agent Butler stood and nodded to a knot of young men and women, all wearing earpieces. They marched to the senators' chest high bench and halted, hands clasped behind their backs in military parade-rest fashion. They stared at four of the nation's highest-ranking elected officials.
"Senators Feinstein, Booker, Blumenthal and Harris, you are hereby under arrest for high crimes against the people of the United States and the Constitution. You are charged with seditious conspiracy and advocating the overthrow of government under U.S. Code Title 18, Chapter 115. You have the right to remain silent…."
In early October, Judge Brett Kavanaugh was confirmed by a large majority of U.S. senators and sworn in as a justice of the Supreme Court.
Each of the four Democrat senators was indicted and released on one-million-dollar bail. All were banished from the Senate, pending outcomes of their trials.
Republican candidates swept state and local elections in a "Red Tide Landslide" on November 6, 2018, and maintained control of the Senate. The House was bought by anti-American billionaires, who underwrote Democrats' campaigns.
The FBI investigation of what President Trump and chastened reporters labeled the "Resistance Kristallnacht" continues to expand. More indictments are expected.