Interview
Link to a NewsmaxTV "Midpoint"interview today: MidPoint | William B. Scott discusses America's Police Force. 
We discussed Erik's execution, the fact that rogue/outlaw killer-cops now constitute a dangerous domestic terrorist threat, why "The Permit" was written, and how law enforcement's lies and cover-ups have undermined Americans' trust, sparking riots in Ferguson, MO.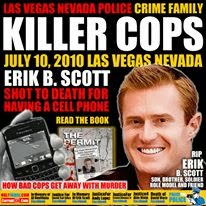 Death Threats
After doing an interview on "The Truth is Stranger Than Fiction With Pete Wichert" Internet radio show on Wed., 20 Aug., the host received a number of sinister phone calls throughout the night.
The voice-altered caller threatened the lives of Pete Wichert, two of his other guests, and yours truly. The caller said, "William B. Scott will be lucky to be alive long enough…to get on 'Infowars,' because he spoke about his son's murder."
Pete's theory: My account of Erik's murder-by-cop might have "upset" the Cleveland Mob or a venal, die-hard police union. Pete said the caller repeatedly warned that "Scott had better keep his mouth shut." Evidently, the worst vitriol was focused on an Infowars reporter, Joe Biggs, and ol' man Scott.
Joe's on-camera interview, earlier this week, showed a St. Ann, MO, cop, Lt. Jay Albers, pointing an AR-15 rifle at Joe and yelling, "I'll f****** kill you!" The video was carried by Fox News and other TV networks, and resulted in Lt. Albers being "suspended indefinitely," according to a statement released by the St. Ann Police Department.
Evidently, the caller demanded that I stop recounting the story of my son's murder at the hands of William "Curley Joe" Mosher. It's annoying police officers, who blindly, desperately hang onto the ridiculous, false narrative spun by Las Vegas Metro PD's chief cover-up architect, Captain Patrick Neville.
Upon advice of a retired sheriff and a couple of police officer friends, I reported the death threats to appropriate authorities. Personally, I think the caller's a sick, warped nutcase holed up in his mom's basement. Rest assured, though, all threatened parties are taking protective precautions.
Finally, please note these latest, shocking statistics about killer-cops throughout America:
At least 700 people have been killed by U.S. police, since January 1, 2014.
At least 1449 have been killed since May 1, 2013.
At least 1087 were killed May 1, 2013 – May 1, 2014.
Source: Police reports via corporate news reports.