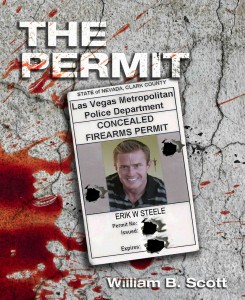 Contact: Lisa Mayo-DeRiso
Techno-Thriller Unveils the Most Dangerous
Domestic-Terrorism Threat Facing America Today
Written By William B. Scott and Inspired by the real-life murder
of his son, Erik Scott, By Las Vegas Police
LAS VEGAS (March 28, 2013) – The murder of a beloved son, a quest for truth and justice usurped by a broken legal system, and a battle with both grief and a blatant cover-up, led author William B. Scott to create a fictional tale rooted in every parent's nightmare. The result is The Permit, a compelling techno-thriller novel based on the real-world murder of Erik Scott, who was gunned down by Las Vegas Metropolitan Police Department officers in front of a suburban Costco store in July 2010.
"My son, Erik, was murdered, because a BlackBerry in his hand was mistaken for a firearm. That senseless tragedy was magnified by a sloppy, transparent cover-up orchestrated to protect his killers and a Cartel of Corruption that controls Las Vegas," said William B. Scott, bestselling author and Erik Scott's father.

"It soon became apparent that the Cartel's enforcers—rogue cops—were no different than dangerous domestic terrorists. In the past, rogue cops were a very small percentage of U.S. police forces. But that changed in recent years. Today, twenty-five-to-thirty percent of some police departments—including Las Vegas Metro—comprise 'rogue' or 'bad' cops. Every day brings another headline about American citizens being brutalized and killed by those who have sworn to serve and protect."
The Permit
recounts a dramatic "black operation" that launches in Las Vegas, Nevada, when Department of Homeland Security intelligence agents identify a new, incredibly dangerous terrorist "sleeper cell." This group constitutes the most serious domestic-terrorism threat to national security the U.S. has faced since nine-eleven. In the past decade, it has killed more Americans than al Qaeda murdered on nine-eleven. These terrorists are deeply entrenched in our society. They look like us, talk like us, live in our neighborhoods and, for the most part, pass for respected citizens. But they are killing thousands of Americans throughout this great country—and becoming more militant and powerful every day. Their code name is INDIGO. Checkmate, a covert counterterrorism team, has the advanced-technology weapons and agents to neutralize INDIGO, but very little time to do so. If Checkmate fails, America will erupt in armed rebellion.
Why fiction? "When it became apparent that the traditional 'legal' process was failing my family," Scott explained, "I turned to an effective asymmetric-warfare vehicle for revealing truth: entertainment. A story that blended fact and fiction would expose the Las Vegas Cartel of Corruption by showcasing its brutal methods and warped, venal objectives. It's a proven tool called 'Justice through Fiction.'"
Enthusiastic advance praise for The Permit, a fast-moving, high-tech thriller that sets a new benchmark for "Justice through Fiction:"
"With The Permit, Scott has taken personal tragedy and fashioned it into a work of art. He has expertly woven a complex story of intrigue into the thinly veiled account of his son, Erik's, 2010 Las Vegas 'murder-by-cop.' A heartbreaking tale, you can feel the love between the lines, but Scott never overdoes it with sentimentality, instead taking revenge by writing against the terrible injustices that befell his family. I…am awed that he was able to turn tragedy into triumph, which is just another example of his skill as a writer. A real page-turner."

– Cathy Brown, Brooklyn, NY
" The Permit is one of those books that, once you start reading, you can't put it down. The excitement and intrigue of political and police corruption, the crime syndicate, high-tech 'black world' operations, and personal ambitions, all intermixed and centered around the murder of a young man, as he walked out of a 'big box' store with his fiancée, is skillfully crafted into a gripping, highly recommended book." — R. Vondra
"Writing The Permit was also a way of grieving—my route to healing," Scott added. "By blending fact and fiction, Permit lets readers experience a dad's range of emotions, from crushing grief, anger and frustration to the satisfaction of seeing justice ultimately delivered by a covert government agency employing cutting-edge 'black world,' high-tech weapons."
The Permit
launches a series of techno-thriller novels built on a unique theme: "Fiction as a Legal Weapon."
William B. (Bill) Scott is a full-time author. A former flight test engineer and aerospace journalist, he retired as the Rocky Mountain Bureau Chief for Aviation Week & Space Technology, following a 22-year career with the international magazine. He and his wife live in Colorado Springs, writing and developing the "Fiction as a Legal Weapon" brand of techno-thrillers derived from a premise established in
The Permit.